HDPE / PPR Mesin las fusion sok digunakake kanggo nyambungake pipa & kelengkapan plastik kanggo dhi20-110mm cilik. Utamane,welding fusion sok digawe kanthi pipa plastik termal,kaya pipo HDPE,pipo PPR.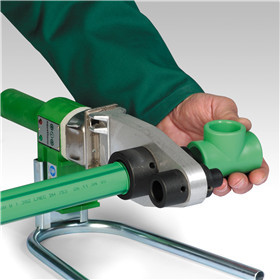 Mesin welding soket HDPE / PPR kalebu piring mati teflon. Soket logam dipasang ing piring panas nggunakake kurungan njaba pipa,dene spigot logam liyane ing sisih ngelawan plato panas kanthi serep ngombe permukaan jero injeksi sing pas. Loro lan pipa digawe panas kanggo wektu sing dawa sawise soket / spigot alat digawe panas dicopot lan pipa di-push menyang pas. Pipa lan pas wis ana kanggo wektu sing wis ditemtokake kanggo adhem lan mbentuk gelas.
Mesin ngelas fusion SUNPLAST HDPE / PPR bisa diwenehake ing 3 macem-macem model,kasedhiya welding dn20-32mm,dn20-63mm & dn75-110mm.
Paramèter

Model

SPSF20-32

SPSE20-63

SPSE75-110

Range Welding

20/25 / 32mm

20/25/32/40/50 / 63mm

75/90 / 110mm

Voltase Input

TeganganAC220v ± 20%,Frekuensi 50-60HZ

Daya Makarya

1000W

1000W

1200W

Range suhu

0-300â "ƒ

Bobot

3.6KGS

5.7KGS

7.4KGS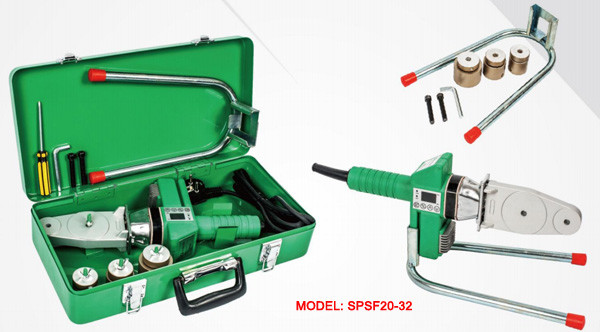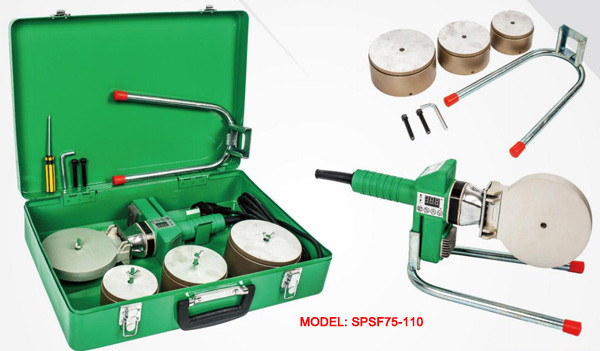 The HDPE/PP Socket fusion welding machine is consisted of machine,stand,teflon coated die plates,iron box screwdriver,screw & allen key.
Keuntungan utama yen mesin las fusion SUNPLAST HDPE / PPR Sokong:
â € display Digital tampilan: buruh bisa ngerti suhu piring mati nalika ngelas.
※ High working power,save welding time.
"kabel tahan panas; nganti 300â "ƒ digunakake.
※ Three models option,possible to weld the diameter dn20-110mm
â € »Thermostat diwenehake
â € »Kabeh apparatus sing dibutuhake kanggo welding kasedhiya ing toolbox
â € »Kabeh mesin las fusion soket HDPE / PPR dijamin nganti 12month kanggo panggunaan normal.
Our regular exporting packing method: each piece of HDPE/PPR socket fusion welding machine be packed in iron box,and then put in a carton for several iron box
SUNPLAST siyap nyedhiyakake mesin welding fusion soket HDPE / PPR kualitas paling apik kanggo kabeh pelanggan ing saindenging jagad.
Kanggo rincian kontak 24 jam kaya ing ngisor iki:
Email: ekspor @ sunplastpipe.com
Tel: 0086-574-87226883 / 87467583
Ponsel / whatsApp / Wechat: 0086-15968493053 / 18858041865